Lake Boga and Tresco West Cemetery
Lake Boga
Victoria, Australia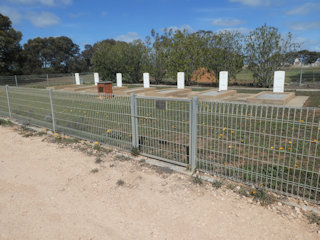 Lake Boga and Tresco West Cemetery, Lake Boga
---
The cemetery at Lake Boga was gazetted in 1896. With the establishment of the No 1 Flying Boat Repair Depot (FBRD) almost fifty years later, it was deemed necessary to set aside a portion of the local cemetery for the interment of service personnel. On 26 March 1943, a representative of the War Graves Commission inspected the cemetery with a view to selecting a suitable site. The site remains a focus for local and regional commemoration. In recent years, two small 'Lest We Forget' memorials have been built – one by the Lake Boga RSL, unveiled on 29 October 1993, and another by the former personnel of the No 1 Flying Boat Repair Depot, at the Catalina Reunion in October 1996.
The first fatality occurred only two weeks later, when a 23-year- old airman, Ernest Holleton, was killed in a motorcycle accident near Kerang. He was given a military funeral and interred in the new War Graves section. Over the next few years, there were relatively few deaths. Car and motorcycle accidents also claimed the lives of Airman Edward Hircock in 1943, Corporal Charles Bucholz in 1944 and Warrant Officer Allan Tozer in 1945.
Officer Norma Kelso, a member of the WAAAF assigned to cypher duties at Lake Boga, drowned in the lake only eleven days after her arrival. Also buried at the cemetery were Lance-Corporal WH Daniels (1901-1944) and Lieutenant LG Hutton (1920-1946), two members of the AIF.
---
The GPR holds 350 grave and 1374 person records for the cemetery.
There have been 2 requests for photographs from the cemetery.
The latest details for the cemetery were added on 24 October 2021