War Memorial
Kavieng
New Ireland, Papua New Guinea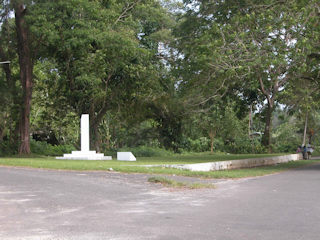 War Memorial, Kavieng
---
WW11 Memorial, Kavieng, New Ireland, P.N.G.
This memorial, erected in 2002, is situated just back from the waters of Kavieng Harbour. Nearby there still exists the remnants of the Kavieng Wharf where the massacre of 32 Prisoners of War by the Japanese occurred on or about 17th March 1944.
Many of the names on this memorial have poignant stories to tell. I have tried to honour these lost lives with a thumbnail sketch of how they came to die on this beautiful island during a turbulent time after the Japanese invasion of 23rd January 1942.
Among the names here are nine Coast Watchers who were executed by the Japanese. Among them is my Grandfather's name.
The oldest person named here is Phebe Colthilde Parkinson who had an amazing life story. She was captured while aiding downed American airman. The youngest was David James Topal, aged 12 years, who was one of the 32 POWs to be executed on or about 17th March 1944.
Some of the references I have used:-
The Kavieng Massacre by Raden Dunbar.
Right Man. Right Place. Worst Time by Betty Lee.
People of the Plaque compiled by Jim Ridges. http://www.jje.info/lostlives
---
The GPR holds 98 person records for the war memorial.
The latest details for the war memorial were added on 07 February 2021