St Peter (roll of honour)
Helperthorpe
Yorkshire, England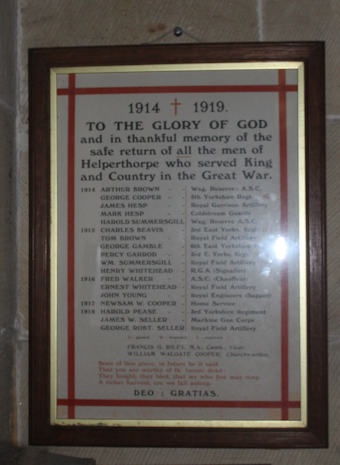 St Peter (roll of honour), Helperthorpe
---
1914 - 1919
To The Glory Of God
and in thankful memory of the
safe return of all the men of
Helperthorpe who served King
and Country in the Great War.

Sons of this place, in future be it said
That you are worthy of th' heroic dead:
They fought, they bled, that we who live may reap
A richer harvest, ere we fall asleep.
Deo : Gatias.
---
The GPR holds 20 person records for the war memorial.
The status of the photographing of the war memorial is believed to be complete.
The latest details for the war memorial were added on 23 April 2018