Mohnsville Cemetery
Mohnton
Pennsylvania, United States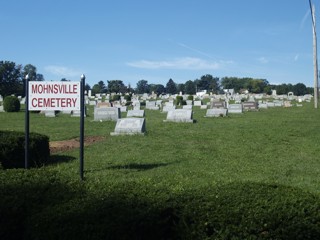 Mohnsville Cemetery, Mohnton
---
In 1803, in the Reading, Pennsylvania, USA, area, a traveling minister by the name of Jacob Albright (later to found Albright College) and his followers formed the Evangelical Association. In 1841, the Reverend Henry Fisher, who was in charge of the Mohnsville circuit, preached the first Evangelical sermon in the area. In 1847, the first class of 15 members was organized, and in 1849, the congregation was formed. They decided to erect a church building, and the cornerstone to Salem Evangelical Church was laid on June 3, 1849. The church was built just west of the old cemetery, with Church Street passing behind the building. The church grew, and a newer church was built behind the old building. The first church was removed and Church Street was straightened to pass in front of the new church.! ! In 1894, a religious controversy arouse, and the congregation was divided. The church and its property at first remained in possession of the Evangelical Association, and the breakoff group worshipped in Spatzís Schoolhouse a short distance away. However, the latter group soon retained the church building and then made plans to build a newer one, which now occupies the corner of Summit and Church Street in Mohnton (which changed its name from Mohnsville due to the confusion of the post office with the town down the road by the name of Mohrsville.) The second church building was leveled. ! ! The care-taking of the cemetery has remained in the hands of the the Evangelical Church (now Zion EC), when the present church building was erected in 1847 (You can even see one of the first gravestones in the picture of the first Salem EC). The cemetery was expanded to contain property down to F. Skip Zerbe Street and across the street. The old cemetery at the end of N. Church Street and Madison remains surrounded by a low wall, which used to have a wrought-iron fence atop it.
---
The GPR holds 196 grave and 354 person records for the cemetery.
There have been 22 requests for photographs from the cemetery.
The latest details for the cemetery were added on 27 January 2014