Pioneer Private Cemetery
Kamloops
British Columbia, Canada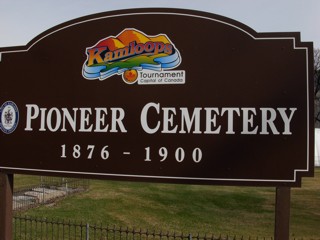 Pioneer Private Cemetery, Kamloops
---
780 Lorne Street, Kamloops, British Columbia, Canada
Pioneer Cemetery is located at the northeast end of Kamloops just south of the Thompson River. It is set on flat terrain and surrounded by a screen of mature deciduous trees. The cemetery now functions as a park and surviving original tombstones have been relocated to the southwest corner of the property.
The Pioneer Cemetery was established in 1876 on land owned by Kamloops rancher, John Peterson. The land provided space for the burial of early Kamloops residents and is the oldest burial ground in the city. Kamloops town purchased the land and title to the cemetery from Peterson in 1884. The cemetery was used until approximately 1900 when the larger Pleasant Street Cemetery was established. Many of the people buried at Pioneer Cemetery were disinterred and reburied at Pleasant Street Cemetery by their surviving relatives. The old cemetery fell into disrepair and became overgrown and forgotten. And many of the remaining tombstones were broken or vandalized.
In the 1940ís an attempt was made to clean up the old cemetery and the remaining tombstones were relocated to a corner of the site, laid flat, set into concrete and surrounded by the remains of a wrought iron fence. This may have been due to flood damage in 1948. In 1962, the city converted the neglected cemetery into a park.
The sole surviving grave site which still bears its original tombstone is that of Sherriff John T. Ussher who was shot and killed by the outlaw McLean Brothers in 1879.
---
The GPR holds 34 grave and 51 person records for the private cemetery.
The status of the photographing of the private cemetery is believed to be complete.
The quality of the photographs of the private cemetery is excellent.
There have been 21 requests for photographs from the private cemetery.
The latest details for the private cemetery were added on 13 July 2011