Martha Rowland nee Reece
The name Martha Rowland is the first name on the monument.
The monument is in All Saints church burial ground, Gresford, Wrexham, Wales.
Martha Rowland was buried in the grave in 1831. The actual date of death is not currently recorded on the GPR database but it may be on the grave monument photograph.
Martha Rowland age is given as 33.
Martha Rowland calculated year of birth is 1798.
Martha Rowland is listed on the GPR grave numbered 377777.
There are 539 other graves within this cemetery that are listed within the GPR database.
Martha Rowland is listed as the first name on monument on the grave monument.
Martha Rowland has the record number 808052 within the GPR person name database table.
The record was added to the GPR on 22 February 2014
There is one image available for the monument listing Martha Rowland (see below).
The follow note is stored against Martha Rowland record:
of Allington. Martha married John Rowland in Jan.1826, Parish of Gresford, and had at least one son, Peter, born Nov.1826. Possibly a son named John as well, born c.1829. Peter & John arrived in South Australia on the same ship in 1853, from Liverpool. Both named their first born sons John/Jonathan Reece/Rhys Rowland. Both parents had died by 1838, where were the boys living until their departure for Australia?
google ad
There is one image (DSC02010) for this grave monument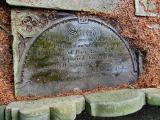 There is one image available for the monument listing Martha Rowland.
If you want high quality larger image
then press the "Request free monument image" button below.