John Ahern
The name John Ahern is the first name on the monument.
The monument is in Omaka 2 military cemetery, Blenheim, Marlborough, New Zealand.
John Ahern was buried in the grave in 1901. The actual date of death is not currently recorded on the GPR database but it may be on the grave monument photograph.
John Ahern age is given as 75.
John Ahern calculated year of birth is 1826.
John Ahern is listed on the GPR grave numbered 284899.
There are 762 other graves within this cemetery that are listed within the GPR database.
John Ahern is listed as the first name on monument on the grave monument.
John Ahern has the record number 610055 within the GPR person name database table.
The record was added to the GPR on 08 March 2013
There is one image available for the monument listing John Ahern (see below).
The follow note is stored against John Ahern record:
died 18 Jul 1901. John Ahern was born in Ireland about 1826 and emigrated to Tasmania (may have been convict - can't verify) he married in 1856 to Hester/Ester Henderson at Hobart. Two children born - Patrick 1856, Hobart, John 1859, Riddles Creek, Vic, Mary Ellen 1862. Family emigrated 1863 on City of Melbourne, settled Blenheim. secoond daughter Esther born 1866
google ad
There is one image (115) for this grave monument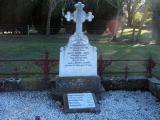 There is one image available for the monument listing John Ahern.
If you want high quality larger image
then press the "Request free monument image" button below.