Lt A M Hunter
The name A M Hunter is listed on the War Memorial
The monument is in War Memorial , Shanklin, Isle of Wight, England.
No date of death is recorded against A M Hunter entry on the monument.
A M Hunter is listed on the GPR war memorial numbered 617156.
There are 121 names mentioned on this monument.
A M Hunter has the recordnumber 1291527 within the GPR person name database table.
The follow note is stored against A M Hunter record:
google ad
There is one image (5) for this grave monument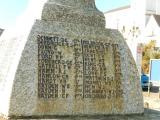 There is one image available for the monument listing A M Hunter.
To order a high quality version of this monument image, go to this monuments grave detail page.