Dr Andrew Browne FRCS
The name Andrew Browne is the first name on the monument.
The monument is in Pere Lachaise (Pt3) cemetery, Paris, Paris, France.
Andrew Browne was buried in the grave in 1848. The actual date of death is not currently recorded on the GPR database but it may be on the grave monument photograph.
Andrew Browne age is given as 71.
Andrew Browne calculated year of birth is 1777.
Andrew Browne is listed on the GPR grave numbered 329610.
There are 71 other graves within this cemetery that are listed within the GPR database.
Andrew Browne is listed as the first name on monument on the grave monument.
Andrew Browne has the record number 702341 within the GPR person name database table.
The record was added to the GPR on 18 August 2013
There are 2 images available for the monument listing Andrew Browne (see below).
The follow note is stored against Andrew Browne record:
From 'Ireland and medicine in the 17th and 18th centuries' by F.Clark and J.Kelly: One long-serving surgeon perversely retired to Paris; where he died in 1848. This was Andrew Browne; probably a surgeon's son from Ballinrobe; County Mayo; who entered the army in 1795 and left in 1830 with the high rank of Deputy Inspector General of Hospitals. Although childless; he used his considerable fortune of £20; 000 to launch a prominent Ulster dynasty: the Montague Brownes of Janeville; St John's Point; Ardglass; County Down. Browne almost certainly obtained a captaincy in the army for his much younger brother; Peter; then left more than half of his wealth to Peter's soldier son; another Andrew. The family was connected to the Montagues of Cowdray in Sussex.
google ad
There are 2 images with the name PPLAndBrowne1 available for this grave monument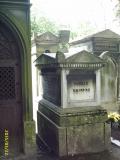 There are 2 images available for the monument listing Andrew Browne.
If you want high quality larger image
then press the "Request free monument image" button below.