Bernard Duffy
The name Bernard Duffy is not the first name listed on the monument.
The monument is in Omaka 2 military cemetery, Blenheim, Marlborough, New Zealand.
Bernard Duffy was buried in the grave in 1941. The actual date of death is not currently recorded on the GPR database but it may be on the grave monument photograph.
Bernard Duffy age is given as 89.
Bernard Duffy calculated year of birth is 1852.
Bernard Duffy is listed on the GPR grave numbered 284778.
There are 762 other graves within this cemetery that are listed within the GPR database.
Bernard Duffy is listed as the husband of Bridget Duffy on the grave monument.
Bernard Duffy has the record number 609778 within the GPR person name database table.
The record was added to the GPR on 08 March 2013
There is one image available for the monument listing Bernard Duffy (see below).
The follow note is stored against Bernard Duffy record:
Baptized September 28, 1853 in Kingcourt, Co Cavan Witness - Bernard McEntee, Catherine Weldon Son of James Duffy and Judith McEntee Lived in Corglass, Co Cavan Married Bridget Myles of Corryholman on April 7, 1875 in Kingscourt Witness – William Tinley, Ellen Myles Priest – Father Christopher Mullen Occupation of Bernard – farmer Sailed from Plymouth England to New Zealand on August 24, 1879 with spouse and three young kids On SS Opawa, captained by Albert Friston Arrived Nelson, New Zealand on November 27, 1879 Left Blenheim Depot on December 8, 1879 Employed by Nicholas Kelly at Omaka, at wages of one pound a week Father of Julia, James, Mary, Annie, Bernard, Ellen Catherine, Thomas and Charles John (Jack) Spouse Bridget died at Omaka, September 6th, 1909 (age 56) Bernard Died March 26, 1941 in Blenheim, Marlborough, New Zealand Buried in Omaka Cemetery (died at age 89) Burial March 28, 1941, Old Catholic Cemetery, #2 Block #1, Plot 90, Plot Key 16133, Warrant # 52825
google ad
There is one image (10) for this grave monument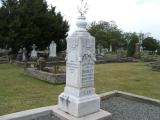 There is one image available for the monument listing Bernard Duffy.
If you want high quality larger image
then press the "Request free monument image" button below.