William Lynd grave monument in St James on the Corner Church burial ground, Wetherby, Yorkshire, England
William Lynd grave monument: legible names and details
full name
burial
date
age
birth
date
relationship
notes

William Lynd

1888
64
1824
first name on monument
DEATH. – March 12, suddenly at Wetherby House, Wetherby, William Lynd aged 63. Interment at Wetherby Cemetery on Wednesday March 14 at 12 o'clock. Friends will please accept this, the only intimation. - The Leeds Mercury March 13 1888 DEATH OF MR. WILLIAM LYND. – We regret to announce the death of Mr. William Lynd, oil-merchant, of Bowman-street, Leeds, which occurred yesterday morning suddenly at his residence at Wetherby. Mr. Lynd was born at Hunslet in 1824, and was thus 64 years of age. He was the fifth son of William Lynd, of Newton Limavaday, Londonderry, Ireland. In 1852 he married Miss Alice Waite, of Malton. He entered the Leeds Town Council in 1868 as a representative in the Liberal interest of the South Ward, and was re-elected on four occasions. He was for many years an active member of the Liberal Party, holding office on the executive of the Leeds Liberal Association, and formerly of that on the Liberal Association of the Eastern Division of the West Riding. He was also chairman of the Wetherby District Liberal Committee. Mr. Lynd belonged to the Unitarian body. He had been in failing health for some time, but on Sunday was in good spirits and in the evening attended divine service. Deceased was of a generous disposition and through his removal Wetherby lost a kind friend. Mr. Lynd was president of the Wetherby Cricket Club and one of its chief supporters. - The Leeds Mercury March 13 1888

Gordon Lynd

1893
31
1862
son of William Lynd
A contemporary states that there is likely to an official inquiry into the circumstances attendant upon the short stay in Napier of a young man named Gordon Lynd, who died almost suddenly in July last. He came to Napier originally in March last, to look at the district with a view to farming. He was so pleased with the province that he subsequently transferred his bank account rom Wellington to Napier, and on May 17th had a considerable sum to his credit. From that date till July 4th he got rid of £209 in some way. It is said that he was very much under the influence of liquor all that time, and that no doubt this hastened his death. The deceased's friends are moving in the matter. Hawke's Bay Herald (New Zealand) 4 September 1893

Alice Lynd

1899
72
1827
wife of William Lynd
Mrs. Lynd, widow of the late Councillor Lynd, of Leeds and Wetherby, died at her residence, The Firs, Wetherby, yesterday. The deceased lady, during her residence in Wetherby during the past quarter of a century, has been highly respected amongst all classes, and especially by the poor, who lose a generous supporter. - The Leeds Mercury January 3 1899
Please note that all ages and dates of birth in red have been calculated and are probably not on the monument.
The calculated dates of birth should be treated with caution as in many cases it can be one year out.
The calculated dates of birth should also be treated with caution as the ages given on monuments are often inaccurate.
The names above are all the names that are listed on the grave monument. It is most likely that only the entries with dates and ages are interred in the grave.
google ad
There is one image (0335) for this grave monument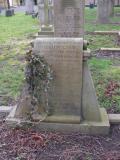 If you want high quality larger version of this image
then press the "Request a free image of this monument" button below.
These grave details have been viewed 1072 times since 8 Jan 2014 when these statistics were first collected.
This graves photo has been requested twice since 8 Jan 2014 when these statistics were first collected.
Reasons why the image for this monument was requested
My maiden name is Lynd, and my great-grandfather Joseph William Lynd, was, I believe, a nephew of this woman's husband, William Lynd. This William Lynd was born in Hunslet to William and Catherine Lynd, nee Moore, as was Joseph William Lynd's father, Moore Lynd. My great-grandfather's father, Moore Lynd, died in his twenties, and his mother then married Ellis Atkinson in Leeds. The family then emigrated to Tasmania in 1854, when my great-grandfather was 10 years of age. He went on to marry and have eight sons, and two daughters. I have completed the family tree, and have only found two other unrelated Lynds in all of Australia's telephone books - all the Lynds now in Tasmania descend from Joseph William. I'd be happy to send you much much more if you'd like me to - I haven't been able to discover the burials of any of "my" Lynds in Leeds thus far, and thanks to your wonderful site, I'll be able to see the headstones of my great-great-uncle and great great aunt. William Lynd had a daughter Frances also, and one of the Tasmanian Lynd grand-daughters was given her name later, so they may have been in contact after my great grandfather arrived in Tasmania, thoush I have no evidence to prove this. Thanks so much for this site - it's wonderful, Best wishes, Carol Brill,nee Lynd, Tasmanian born but now in Melbourne, Vic.
I believe, but am not certain, that these Lynds are the brother of my great great grandfather, Moor Lynd, whose son Joseph William Lynd immigrated to Tasmania.