Caroline Florence de Vere grave monument in Batignolles Cemetery, Paris, Paris, France
Caroline Florence de Vere grave monument: legible names and details
full name
burial
date
age
birth
date
relationship
notes

Caroline Florence "Carrie De Vere" de Vere nee Aubery De Bouilly

1901
26
1875
first name on monument

Camille de Vere

1909
26
1883
relationship not given of Caroline Florence de Vere
Co-managed the family magic shop

Julia "Stage Name: Okito" de Vere nee Feretti

1916
64
1852
relationship not given of Caroline Florence de Vere
From www.magicnook.com: Okita (Julia Ferrett); performed magic in a Japanese style. She was the wife of Charles de Vere; and mother of Cyril and Camille.

Herbert Shakespeare Gardiner "Stage Name: Charles " Williams

1931
88
1843
relationship not given of Caroline Florence de Vere
Williams was a popular British conjurer and magician who took the stage name Charles de Vere. He opened a magic shop in London in 1873; and a magic shop/factory in Paris in 1878. The Paris shop was run with his sons. His daughter Ionia (known was Clementine de Vere) also appeared on the stage as the Goddess of Mystery! (Source: www.magicnook.com).

Cyril de Vere Chevalier Légion d'H

1964
83
1881
relationship not given of Caroline Florence de Vere
Co-managed the family magic shop
Please note that all ages and dates of birth in red have been calculated and are probably not on the monument.
The calculated dates of birth should be treated with caution as in many cases it can be one year out.
The calculated dates of birth should also be treated with caution as the ages given on monuments are often inaccurate.
The names above are all the names that are listed on the grave monument. It is most likely that only the entries with dates and ages are interred in the grave.
google ad
There are 2 images (PBDeVere1) for this grave monument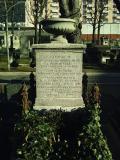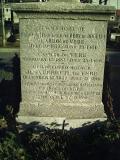 If you want high quality larger versions of these images
then press the "Request 2 free images of this monument" button below.
These grave details have been viewed 842 times since 8 Jan 2014 when these statistics were first collected.
This graves photo has been requested 11 times since 8 Jan 2014 when these statistics were first collected.
Reasons why the image for this monument was requested
I'm interested in the graves of magicians Herbert Shakespeare Gardiner Williams (stage name: Charles de Vere) and his wife Julia Ferret De Vere (stage name: Okita). Thank you.
I am researching the life of Charles de Vere for an article I am writing. I am based in the UK.
I am cyril DE VERÉ ´Daughter. Un this grave : Clémentine Eristavi Tchitcherine bern DE VERE ClaiRe BRUNIZLTI BORN DE VERE CONSTZNCE- élise GODSOL BORN DE VERE BEST REGARDS, CÉCILIA DE VERE
M'y family is buried there Herbert Shakespeare Charles De VERE AND HIS WIFE Camille DE VERE Constance Élise GODSOL BORN DE VERE Clémentine ERISTAVI TCHTCHERINE born DE VERE Claire BRUNIALTI born DE VERE Cyril DE VERE , m'y father
!i am the nièce of caroline DE VERE, the DAUGHTER of Cyril DE VERE
I want to see if Constance Elise De Vere is buried here as well, I did not see her listed.
I am a magician, and working on a project about Charles De Vere, and his inventions, and his shop in Paris, and his family...
Family
I am a Magicienne and am researching the lives of the De Vere Family. Thank you for your time and consideration.
Family history and research of the de Vere's. I've been to the grave site several times. I will be there again this summer. Currently the grave site is covered with ivy and obscures to grave information. Yes. I'll make sure to give credit and thanks.
I'm looking for information on Claire De Vere Brunialti, wife of an Italian soldier who fell in the First World War, and looking for a possible son born in 1916-1917