Frequently asked questions (FAQ)
What is the oldest grave monument within the GPR?
A grave monument for someone buried in 1311 has now been added to the GPR.
This is for Sir Robert Du Bois whose monument is inside St Andrew Church, Fersfield, Norfolk, England.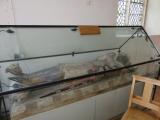 The earliest one before this was the one for Sir John De Bermingham who was buried in 1393 at St Martin in the Bullring, St Martin, Birmingham, England
Most of the very old grave monuments are located within churches where they do not suffer the effects of the weather.
Before the 1700's it was normally only the clergy, or the very important or rich who had grave monuments mostly inside churches.
The vast majority of the grave monument photographs within the GPR archive are located in the open air and are subject to weather errosion.