Richard Sheldrake
The name Richard Sheldrake is the first name on the monument.
The monument is in St James church burial ground, Enfield, Middlesex, England.
Richard Sheldrake was buried in the grave in 1877. The actual date of death is not currently recorded on the GPR database but it may be on the grave monument photograph.
Richard Sheldrake age is given as 57.
Richard Sheldrake calculated year of birth is 1820.
Richard Sheldrake is listed on the GPR grave numbered 111272.
There are 608 other graves within this cemetery that are listed within the GPR database.
Richard Sheldrake is listed as the first name on monument on the grave monument.
Richard Sheldrake has the record number 240621 within the GPR person name database table.
There is one image available for the monument listing Richard Sheldrake (see below).
The follow note is stored against Richard Sheldrake record:
Richard Sheldrake is my G G G Grandfather - Richard was born in Great Hallingbury, Essex, England in 1821. His moved to Enfield and married Elizabeth Sarah Hasler (known as Sarah - also born in Essex, Harlow). In 1851 Richard worked as a coachman at Bycullah House on Windmill Hill - Sarah Hasler was the housemaid. Bycullah Road: Part of the Bycullah Estate Built from 1879. Roads and trees remain but few of the original houses. The name is an area of Bombay, as the park's owner, Riddell, had married an Indian princess. The estate was bought by Cullodon Rowan in 1879 for development. Census 1861 - Occupation - Coachman to a Gentleman. Census 1871- worked at the Gas Works in Scotland Green Ponders End. Richard and Sarah had 3 children, Rhoda born in 1853, died in 1855 aged 2, Elizabeth who married Thomas Freeman and Richard Sheldrake who married Hannah Anderson.
google ad
There is one image (1571) for this grave monument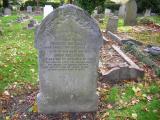 There is one image available for the monument listing Richard Sheldrake.
If you want high quality larger image
then press the "Request free monument image" button below.