Staff Sgt Peter Bobulsky
The name Peter Bobulsky is listed on the War Memorial
The War Memorial is in Reedham, Norfolk, England.
Peter Bobulsky was buried in the grave in 1944. The actual date of death is not currently recorded on the GPR database but it may be on the grave monument photograph.
Peter Bobulsky is listed on the GPR war memorial numbered 211357.
There are 21 other names mentioned on this War Memorial.
Peter Bobulsky has the record number 447066 within the GPR person name database table.
Her maiden name was (to see all the others with the same maiden name, just click the name ).
The record was added to the GPR on 21 April 2012
There is one image available for the monument listing Peter Bobulsky (see below).
The follow note is stored against Peter Bobulsky record:
550th Bomb Squadron, staff sergeant peter bobulsky jr sn 35324186, born 04/26/1921 pa usa, son of peter and anna (hardony) bobulsky, graduated james ford rhodes high school cleveland oh usa 1939, great friend of technical sergeant john h kelley beverly ma usa, paper 'stars and stripes special feature supplement 11/04/1943 page II and III sweatin' it out' bud hutton, book 'air gunner' sgt bud hutton and sgt andy rooney 1944, mission no 66 diepholz 21 feb 1944, book of honor all saints church great ashfield suffolk england, book 'final flights' ian mclachlan first published 1989 reprinted 1994, time team: season 6 episode 8 reedham marshes norfolk tv episode 21 feb 1999, detail of the event online 'hard life herald newsletter of the 385th bombardment group memorial association vol xvII no 2 may 2000', interred holy spirit cemetery parma oh usa 08/04/1948, parma oh usa monument inscription vicnaja jim pamjat, additional information provided by williamhenry566 at hotmail.com
google ad
There is one image (DSCF0781) for this grave monument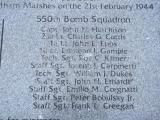 There is one image available for the monument listing Peter Bobulsky.
If you want high quality larger image
then press the "Request free monument image" button below.